Walk the highlights of the Lycian Way
Booking Dates
04/02/2023 through 11/13/2024
Travel Dates
04/02/2023 through 11/16/2024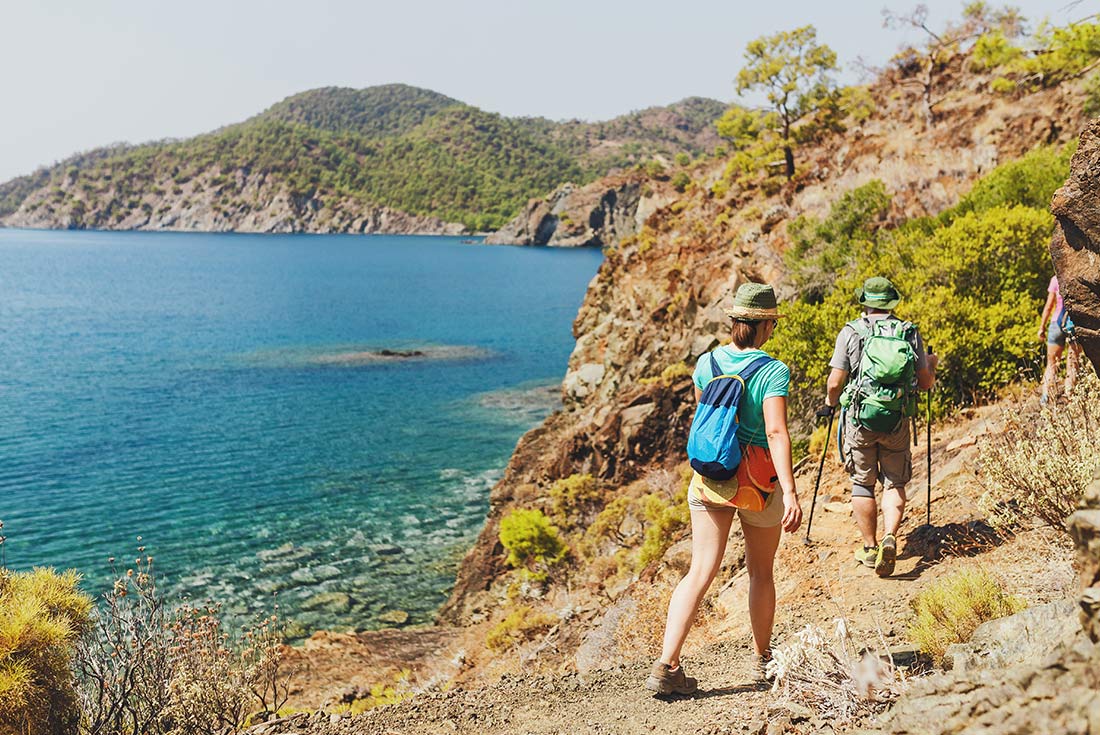 Walk the highlights of the Lycian Way

Imagine a magical place where ancient ruins crumble between lush greenery, rocky cliffs tower out of the Mediterranean Sea below and quaint towns sit perched above the southern coastline – this is Lycia. And this is your chance to explore it all. Spend an unforgettable week walking along the Lycian Way, a path once used by ancient Greeks and Romans, joined by a local leader who will add historical context to all your discoveries. You'll reach ancient cities like Olympos, Aperlai and Sidyma by foot – your journey through the wilderness, making the ancient ruins that much sweeter to explore. You'll get your blood pumping and ignite your passion for the outdoors but still enjoy time to rest and rejuvenate between hikes. Think afternoon boat tours on the Mediterranean, cultural activities, traditional meals and sunsets by the water to make sure you're balancing work and play. If you can call scenic hikes to incredible locations work, that is.

Activities
Alacasu to Phaselis guided walk
Yanartas eternal flames guided walk
Çamburnu to Olympos guided walk
Olympos ancient city walk
Cirali beach walk
Olympos to Adrasan guided hike
Gelidonya Lighthouse
Ancient city of Myra visit
Museum of Lycian Civilizations guided visit
Ancient city of Simena visit
Aperlai Ancient City guided walk
Alinca to Kabak guided walk
Sidyma Ancient City walk
Delikkemer Roman aqueduct visit
Archaeological site
Amyntas Tomb
Highlights
Spend an unforgettable week walking along the Lycian Way, a path once used by ancient Greeks and Romans, joined by a local leader who will add historical context to your discoveries.
Unearth thousands of years of Turkey's history and see how tradition lives on today during visits to Fethiye, Phaselis, Olympos, Adrasan, and Aperlai.
Your walks will be complimented by a truly spectacular backdrop – the Turquoise Coast. Named for its vibrant waters, you'll have plenty of chances to marvel at stunning beaches and dazzling coastline.
Visit Cirali Bay, home of sea turtles, legendary flames and Lycian ruins, this is a place where history and nature meet
Hike to the ancient ruins of Olympos – one of the major cities of the Lycian union, this important city served as both a centre for trade and a pirate stronghold for many centuries.
| Day | Description | View All |
| --- | --- | --- |
| Day 1 | Antalya | Details |
| Day 2 | Alacasu to Phaselis | Details |
| Day 3 | Çamburnu, Olympos | Details |
| Day 4 | Adrasan | Details |
| Day 5 | Simena | Details |
| Day 6 | Simena | Details |
| Day 7 | Kabak | Details |
| Day 8 | Fethiye | Details |